Current Status
Not Enrolled
Get Started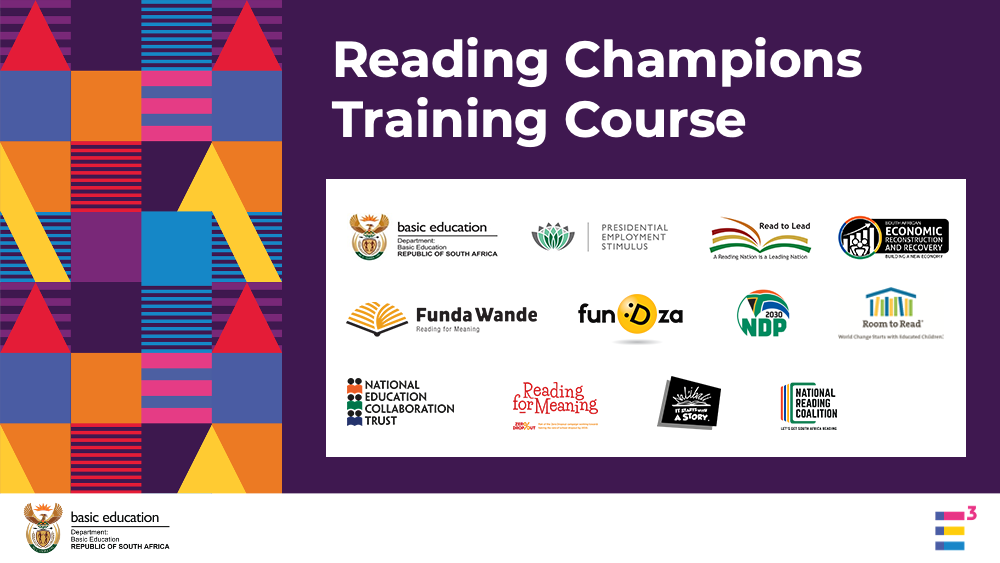 Welcome to the Reading Champions Training Course.
We are so pleased that you could join us on this exciting journey of learning about reading.  We hope you find it enjoyable and useful. Before you start, here are some tips and advice to ease your way.
By the end of this training, participants should be able to:
Train Library Assistants and Reading Champions on their roles and responsibilities in the Reading Champion Programme.
Use the Reading Champions Manual to prepare and do activities.
Understand and practise the five Reading activities.
Understand the importance of accessing, managing and using resources.
Plan and prepare for their activities during and after school.
Understand how to set up reading clubs.
Understand how to engage the community to support reading initiatives.
Lesson 1: The Reading Champions Training Course: An overview 

Topic 1: Your favourite reading memories
Topic 2: The purpose of the Reading Champions programme
Topic 3: The importance of reading for enjoyment
Topic 4: The roles and responsibilities of people in this programme
Topic 5: What to expect when you get to your school
Lesson 2: Preparing for Reading

Topic 1: Choosing suitable books
Topic 2: Reading routines and preparation 
Topic 3: Preparing for Reading Aloud
Lesson 3: An overview of the five reading activities

Topic 1: Storytelling
Topic 2: Reading aloud
Topic 3: Shared reading
Topic 4: Paired reading
Topic 5: Independent reading 
Lesson 4: The five reading activities step-by-step

Topic 1: Storytelling Step-by Step
Topic 2: Reading Aloud Step-by Step
Topic 3: Shared Reading Step-by Step
Topic 4: Paired Reading Step-by Step
Topic 5: Independent Reading Step-by Step
Lesson 5: Obtaining, Using and Managing reading resources

Topic 1 & 2: Setting up a reading corner in the classroom & Accessing hard copy books

Topic 3: Accessing digital books
Topic 4: How to choose the right books
Topic 5: How to level books
Topic 6: Matching books to learners
Topic 7: Displaying books
Topic 8: Caring for books
Topic 9: Creating print-rich environments
Topic 10: Managing book check out
Topic 11: Setting up a Reading Corner
Lesson 6: Extended reading support

Topic 1: Reading Clubs – set up and activities
Topic 2: Community Activation
It's time to start your first lesson and take your first step to becoming a Reading Champion. Good luck and have fun!
Click on Lesson 1 below to continue.