Current Status
Not Enrolled
Get Started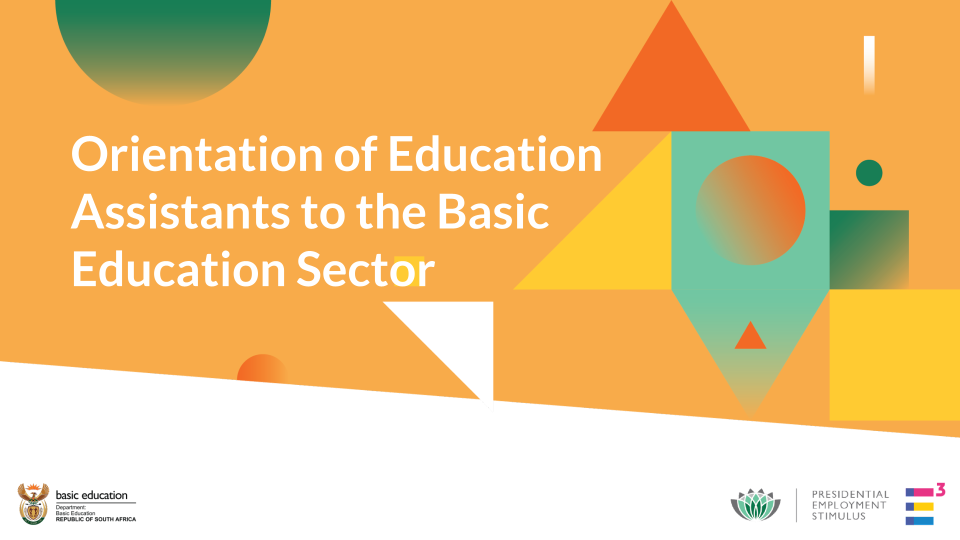 Background
The emergence and spread of the COVID-19 pandemic has been devastating to the South African economy and the livelihood of South Africans. As part of a proactive response, government has introduced an economic recovery stimulus package. Central to this package is an employment stimulus initiative, which is aimed at creating employment opportunities for young South Africans. The introduction of the economic recovery stimulus package assists in providing employment opportunities and provides much needed relief to address some of the sector inherent challenges related to the teacher workforce. Young people employed as Education Assistants will also get an opportunity to develop critical skills that can improve their employability.  As one of the young people referred to as an Education Assistant, you are not a teacher, but an administrator who will provide support to and work under the supervision of a teacher. The work you do must be allocated and supervised by a teacher.
The DBE has developed this orientation programme for you, the Education Assistant. Schools will be expected to provide overall mentoring, training and support for you, based on specific responsibilities allocated. You will be assigned a supervising teacher in the school. The DBE will also determine the framework for monitoring, oversight and reporting. This orientation programme will provide you with an extensive background in completing many different tasks a teacher might need help with and will allow you to provide exceptional assistance throughout your career. 
Training Overview
This training programme consists of the following eight (8) modules: 
Module 1: Job profile and broad expectations of Education Assistants
Module 2: Conditions of employment of Education Assistants  
Module 3: School Governance and management structures 
Module 4: Communication lines/protocol
Module 5: School safety 
Module 6: Resources for conducive working and school resources  
Module 7: Professionalism and Code of Conduct 
Module 8: Performance reviews 
Please click on Module 1 below to continue.